BetaFPV HX115 1080P 60FPS HD 3-4S FPV Racing Drone FRSKY
$340.00
or 4 payments of $85.00 with Wizpay learn more
BetaFPV HX115 1080P 60FPS HD 3-4S FPV Racing Drone FRSKY
Out of stock
Description
HX115 HD 3-4S Freestyle Ripper, the first toothpick quadcopter with the high-definition camera in the market has come, which can shoot in 1080P video at 60FPS and capture the special moments in your flying life. It features toothpick F4 2-4S AIO FC paired with 1105 5000KV motor, enables you to experience the unparalleled boost in power and performance. For those of you who wanna rip in the backyard or blast through the sky, this beast is for you.
HX115 comes with two versions at your disposal. If you prefer to enjoy HD video shooting at this 115mm little beast, HD version is your best choice. If you just wanna experience freestyle with ultimate speed, please choose 
FPV version
. Following table is the specifications comparison.
Bullet Point
HX115 HD is the first HD toothpick drone at present which is installed with Caddx Baby Turtle Camera. With the features of 1080P/60fps HD recording, it brings you an unforgettable FPV flying experience.
The first carbon fiber series installs Betafpv Toothpick 12A 2-4S AIO flight controller, which can reduce weight and size and makes it easier to work on and DIY without lots of messy soldering and wiring.
More durable and aesthetic while maintaining minimal weight is achieved with a 4.2mm thickness carbon fiber unibody frame.
Integrates with 1105 5000KV motor, HX115 offers unparalleled execution in thrust and control.
Supports 3-4S battery. It has plenty of power and punch to do all the tricks and flips you want. Our recommended power combination is that 3030 props with 450mAh 3S battery, while 3020 props with 450mAh 4S battery.
Specification
Toothpick F4 2-4S AIO Flight Controller
The first carbon fiber drone series that installs a new layout all-in-one Toothpick FC, makes this ideal for tight builds and achieves mini stack height. Possesses high-performance STM32F411CEU processor and tuned BETAFPVF411(BEFH), which provides much more power on 2-4S.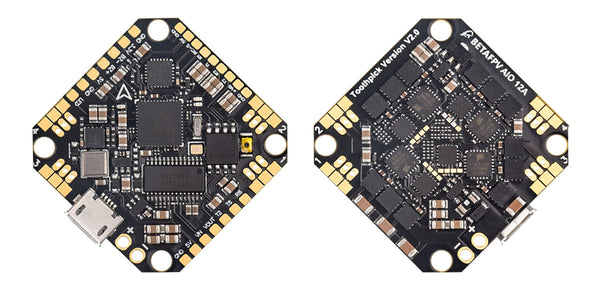 HD Camera and A01 VTX
Caddx Baby Turtle Camera, Ultra-low weight 9g, gives you 1080p/60fps HD recording while also utilizing a sharp WDR FPV camera. For more instruction, click here to reach.
Specifications of Camera
Image sensor: 1/2.7Inch -CMOS sensor
Resolution: 800TVL
Recording: 1080P/60fps, 1080P/30fps
Lens: 1.8mm lens
FPC FOV/Recording FOV: 170
TV system: NTSC/PAL changeable with OSD
Video file format: MP4
Aspect ration: 16:9/4:3 Changeable with OSD
Max Micro SD card supported: 64G
Audio: Support
Illumination: 0.01Lux
DNR: 3DNR
WDR: YES
Fly OSD: YES

Specifications of VTX
A01 VTX board is lighter and perfectly suitable for canopy with switchable output power between 25mW and 200mW. SmartAudio is available for VTX remote control in default.
Output power: 25mW and 200mW (Adjustable)
Smart Audio function is included for radio control
Frequency: 5.8GHz 6 bands 48 channels, with Raceband: 5362~5945MHz
HX115 T700 Carbon Fiber Frame
Newly structure design, R0.5 chamfer, and 4.2mm thickness make HX115 T700 carbon unibody frame become ultimate durability and aesthetic while maintaining minimal weight. It has applied upgraded T700 carbon fiber material, stronger crashworthiness compared to the initial T300 frame.
Recommended Battery
Adhering to the purpose of bringing the perfect flight experience to customers, the most suitable match for props and batteries are as follows, which is switchable and affordable.
Note: We do NOT recommend using 3030 3-blade props with the 4s battery, it may burn your motor due to increased amp draw.
Package
1 * HX115 115mm HD Quad
1 * HQ 3030 3-Blade Props (4pcs)
1 * HQ 3020 2-Blade Props (4pcs)
1 * Set of M2 screws
*Battery is NOT included. It comes with two sets of 3" props without pre-installed, props at your disposal.
Updated History:
4th Dec, 2019– Adopted Caddx Baby Turtle Camera instead of RunCam Camera